the bali immersion
AWAKEN & FLOW
100-hour 11-day format
Ubud, Bali, Indonesia — Summer 2020
JULY 1–12, 2020

Swallowed in jungle,
surrounded by sea,
bursting with life,
grounded in ceremony...

there is no place on earth like Ubud, Bali

bali immersion details
Known as the "Island of the Gods," Ubud is one of the world's most powerful hubs of healing, art and rejuvenation. In a constant performance of timeless rituals, Balinese people practice ancient traditions and mingle with modern-day yogis, a reciprocal interplay of east meets west. Meals are served on banana leaves, your breakfast picked straight from the trees, and you experience a palpable presence of spiritual awakening at every turn.

Here, you are bound to unfold, unwind, nourish, explore and expand.

Awaken & Flow is a 100-hour foundational immersion for The Craft of Teaching Yoga. We study yoga philosophy, history, sequencing, anatomy, chakras, and so much more. Our Bali experience can serve as the first half of your 200-hour yoga teacher training certification with The Craft. Alternatively, this immersion offers 100 hours of continuing education credits if you are already certified. Not interested in teaching? No problem. Fascinated practitioners are welcome to join us, as well.
our balinese life
Each day is unique in Bali. Our Ritual practice and learning sessions provide a stable container for self-exploration and expansion. Long breaks give space for nourishment, rest, or massage. Prepare to be surprised, as the spontaneous nature of Bali will likely take our learning outdoors in beautiful and inspiring locations.

8am - 11:30am the Ritual
11:30am - 1:00pm lunch
1:00pm - 5:00pm learning
5:00pm - 7:00pm dinner & rest
7:00pm - 9:30pm learning
pssst! if you hope to receive your teacher training certificate and to have a successful immersive training experience, you must complete the "pre-immersion" reading, homework & quizzes prior to our first day in Bali. Also note that post-immersion homework will also be assigned!

rise with the sun to the call of roosters, bustle of scooters, and the song of exotic birds

feel the warm hug of the jungle air

nourish with exotic fruits and elixirs

settle into the Ritual for an unhurried dive into our selves

Our morning Ritual is an introspective practice. We weave tried-and-true teachings into the fabric of our beings until the wise words are no longer conceptual, but instead felt and recognized. In concert with the Ritual, we remember our wholeness and connection to everyone and everything around us.
absorb layers of knowledge on philosophy, anatomy, teaching, energetic healing, and so much more

participate in dynamic hands-on workshops catered to every learning style

take a refreshing dip in our private pool for a study break

connect with other trainees through discussion and group work
Our afternoons are dedicated to learning. We experience hands-on workshops, non-dual philosophy discussions, mini-meditations, practice teaching, and lectures. The world of yoga is vast, and expansive, but we layer on the learning in an intentional way so each lesson prepares us for what comes next.
nourish yourself with a local, home-cooked dinner with our private Balinese chef

enjoy an optional in-room massage before our final evening session

cool off in the pool, or bask in the sun, or both!

learn to share yoga with our evening lecture & practice teaching sessions
Our evenings are reserved for integration and restoration. Take it easy, connect with one another, and allow your minds to recoup from posturing. Our evening lesson focuses on applying the day of learning to your teaching. We practice teach, we laugh, we ask questions, and we slowly become yoga instructors.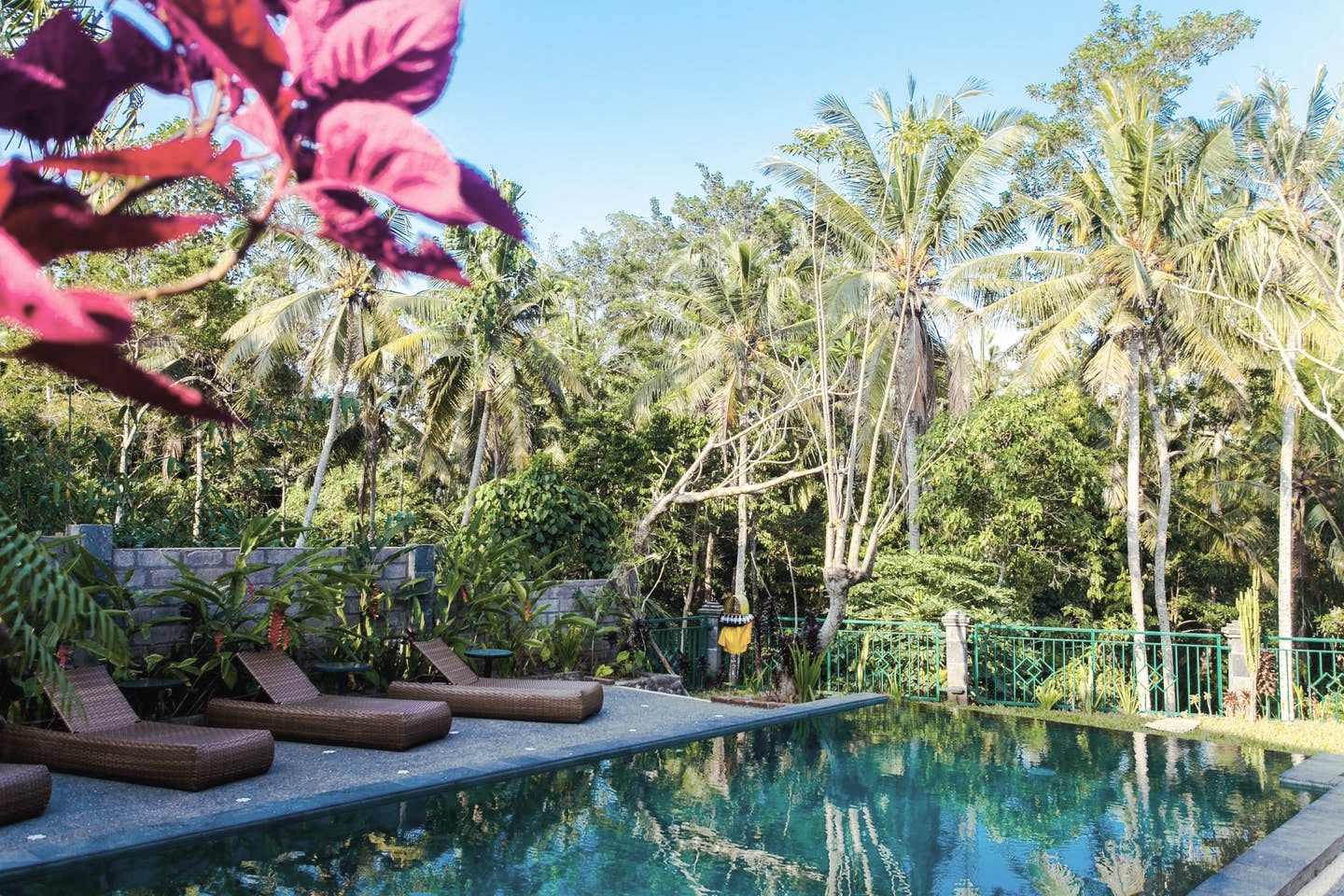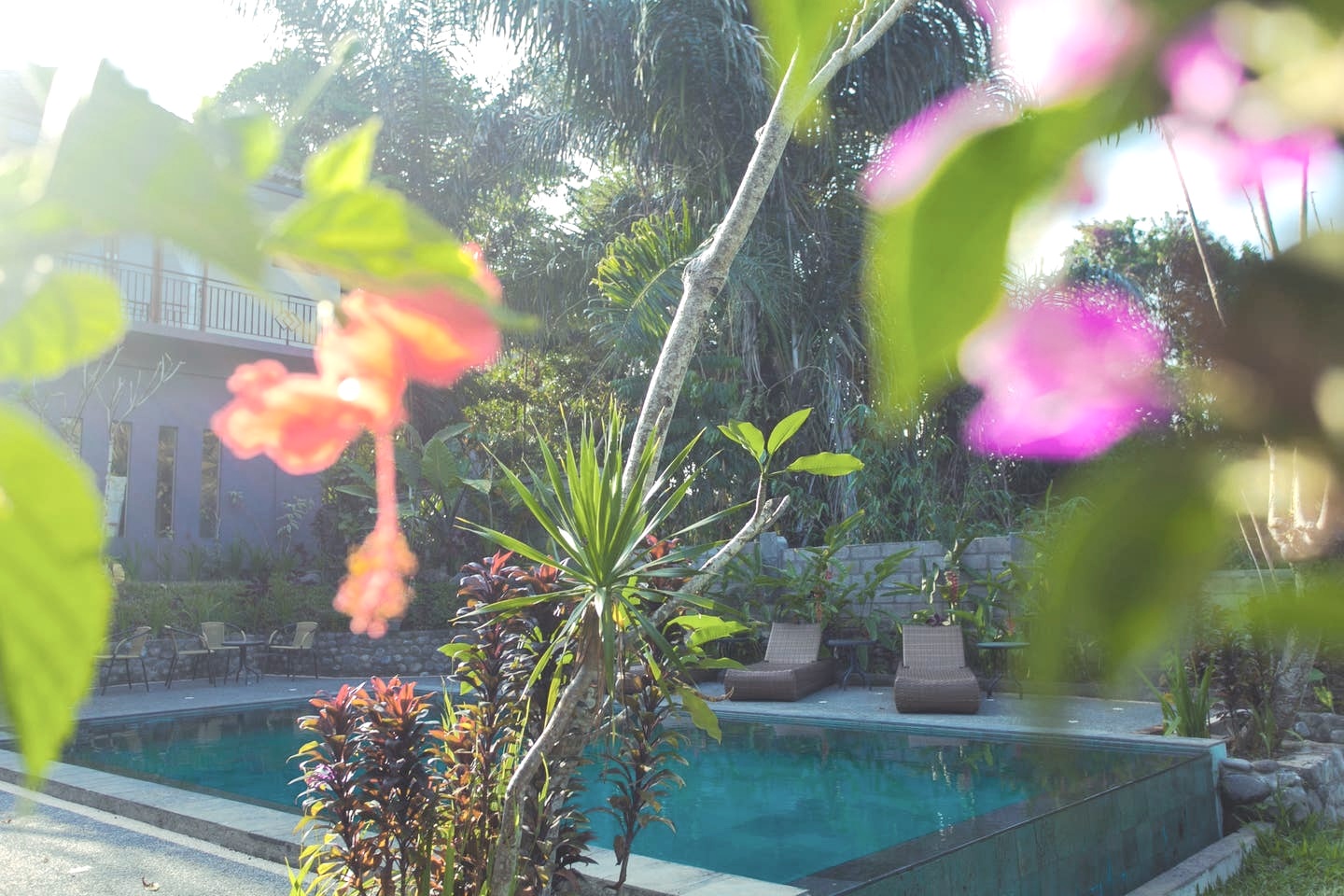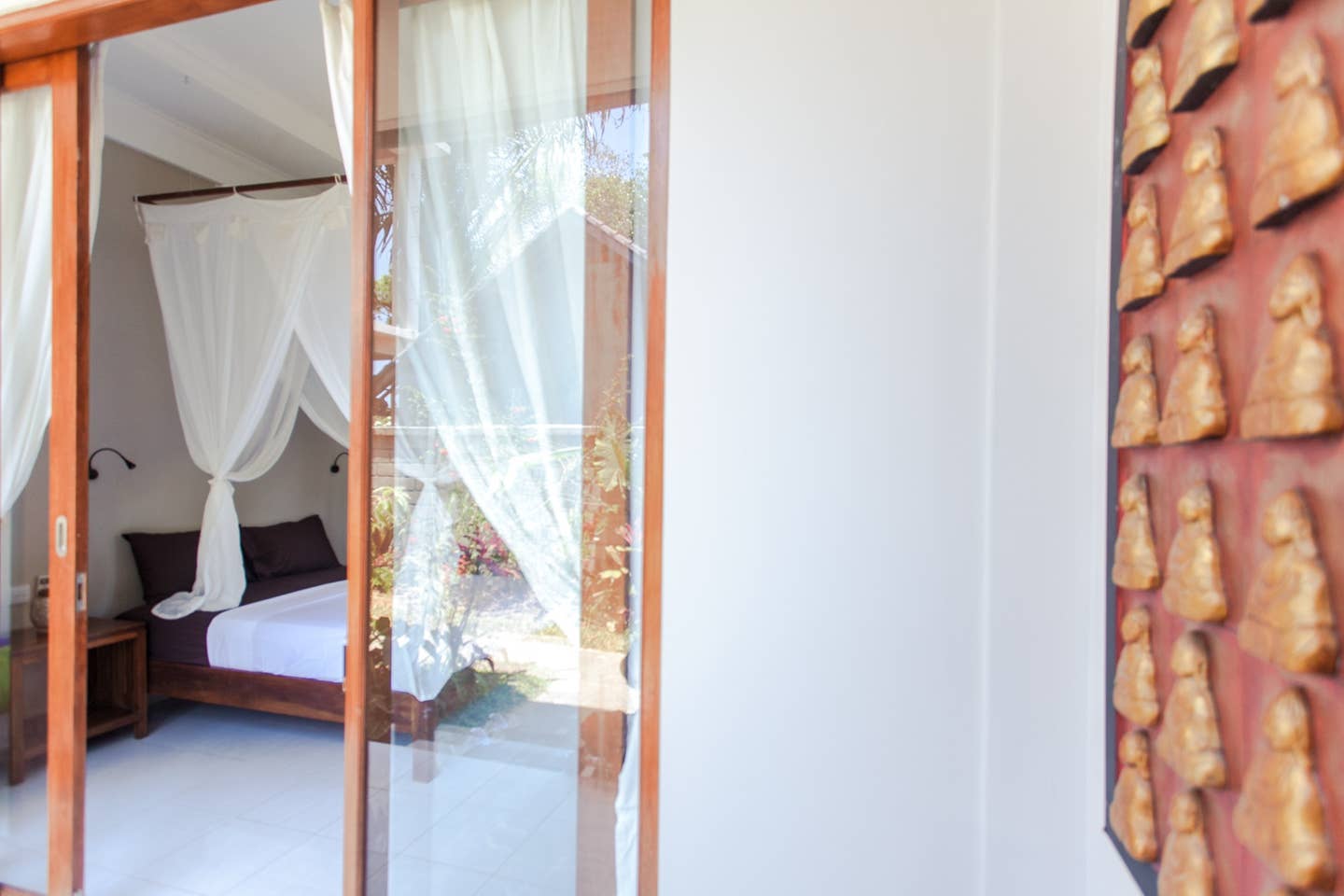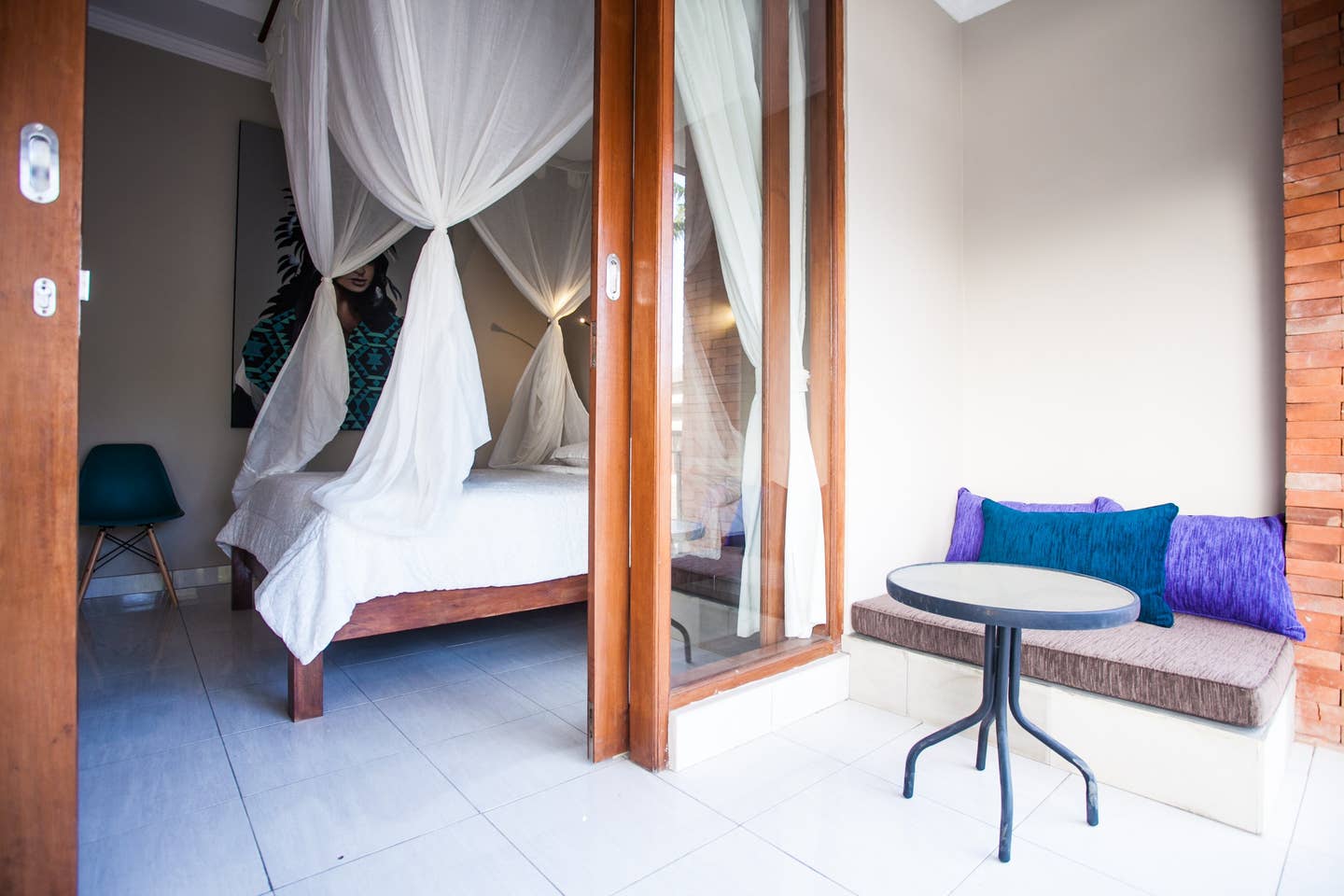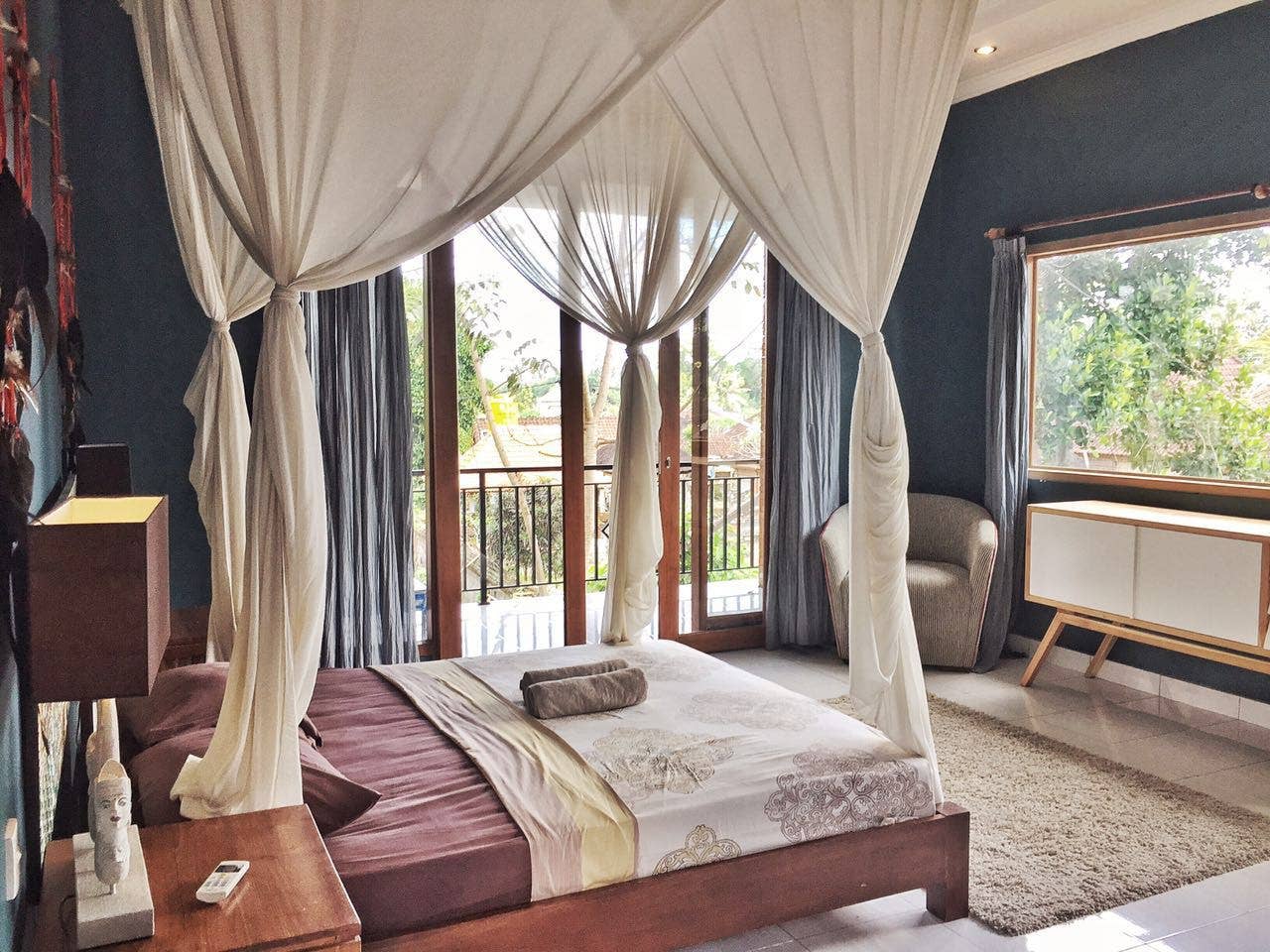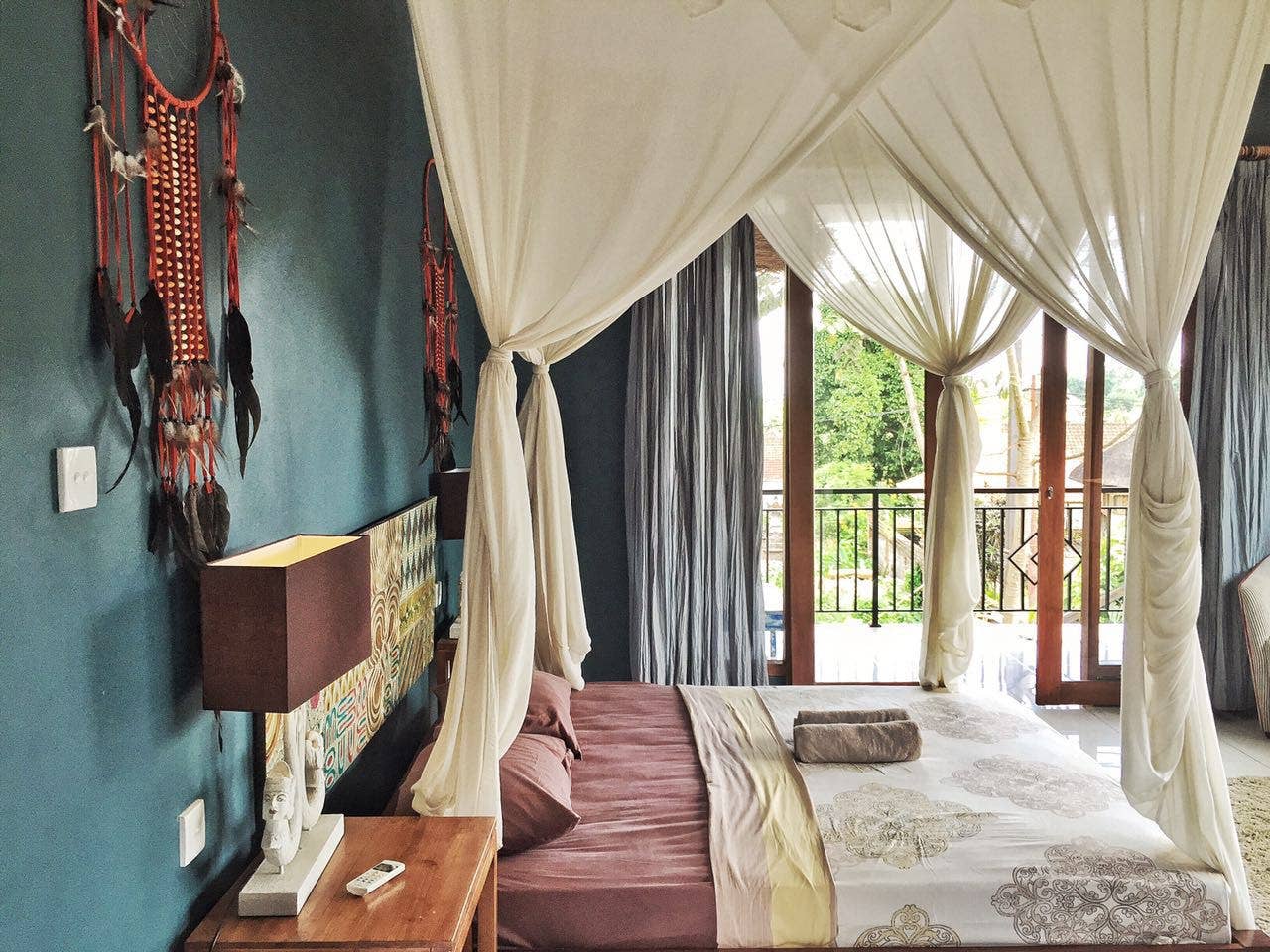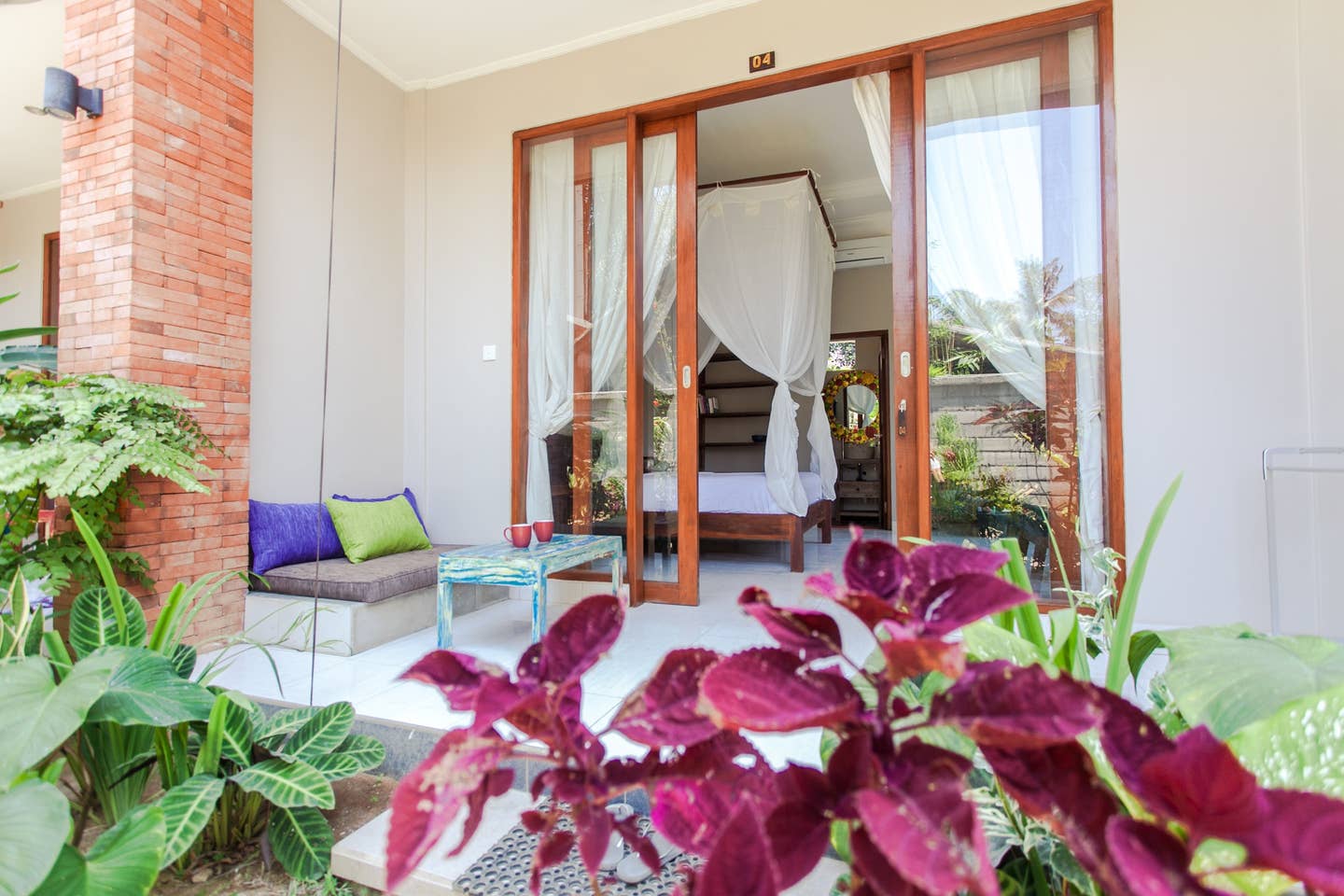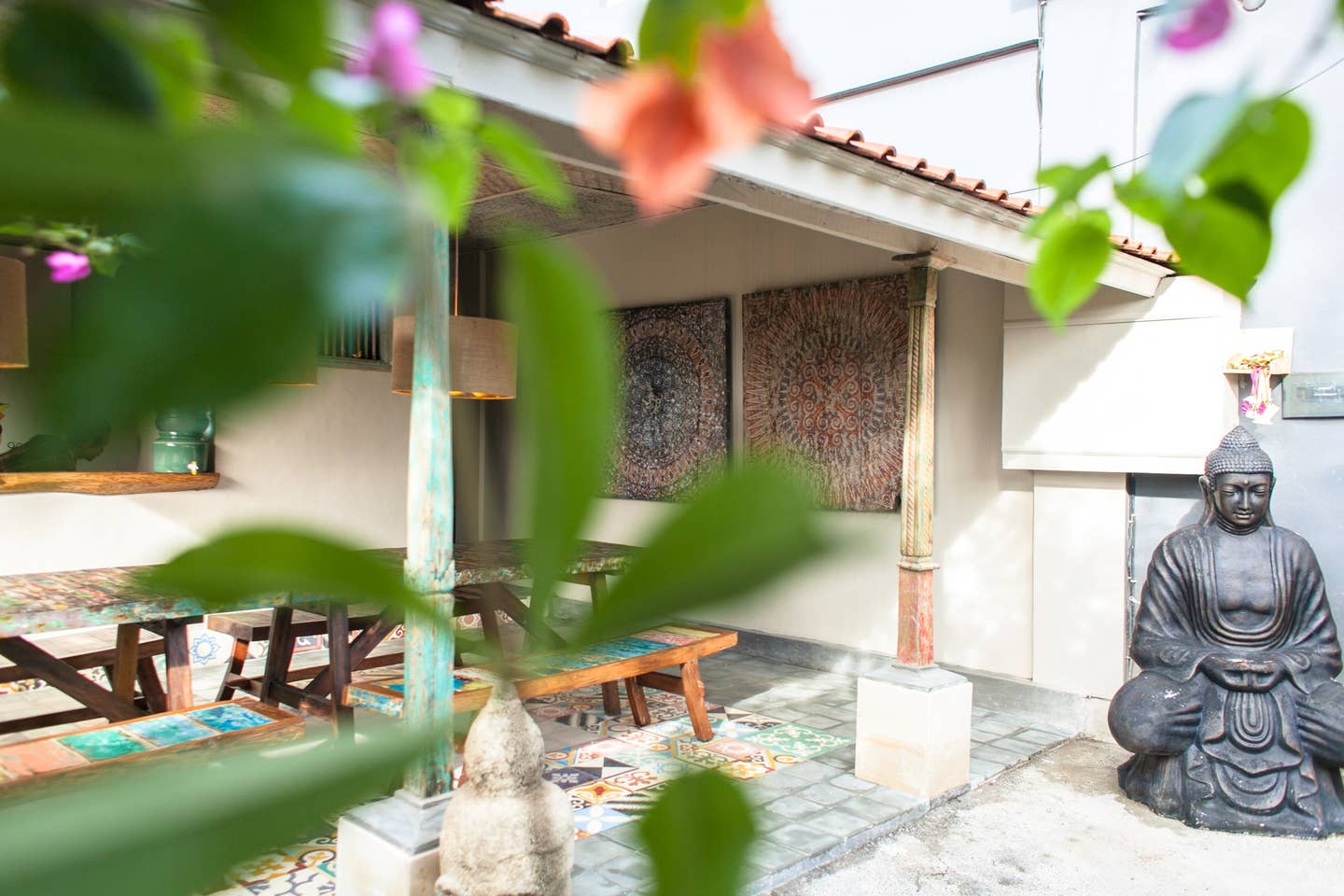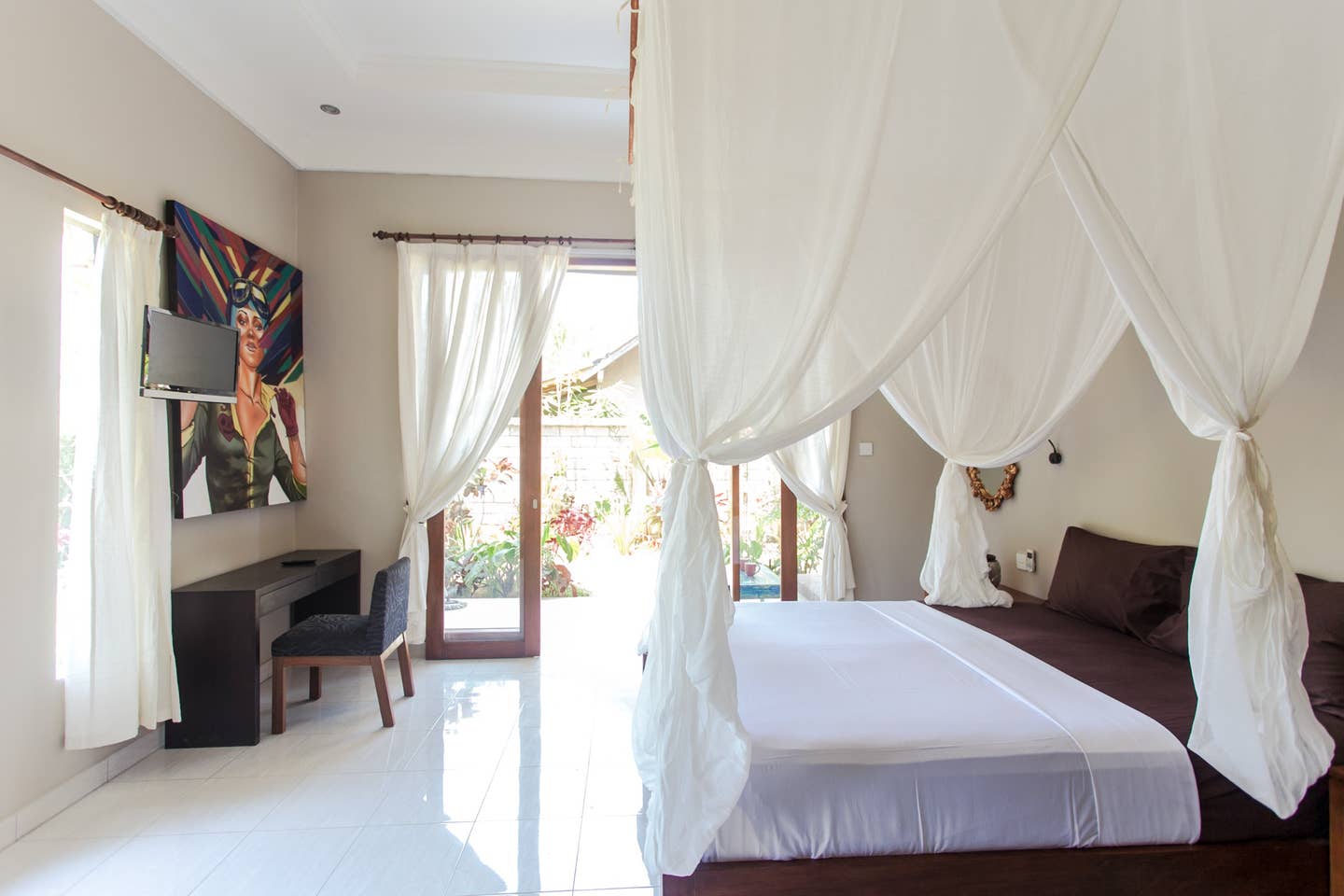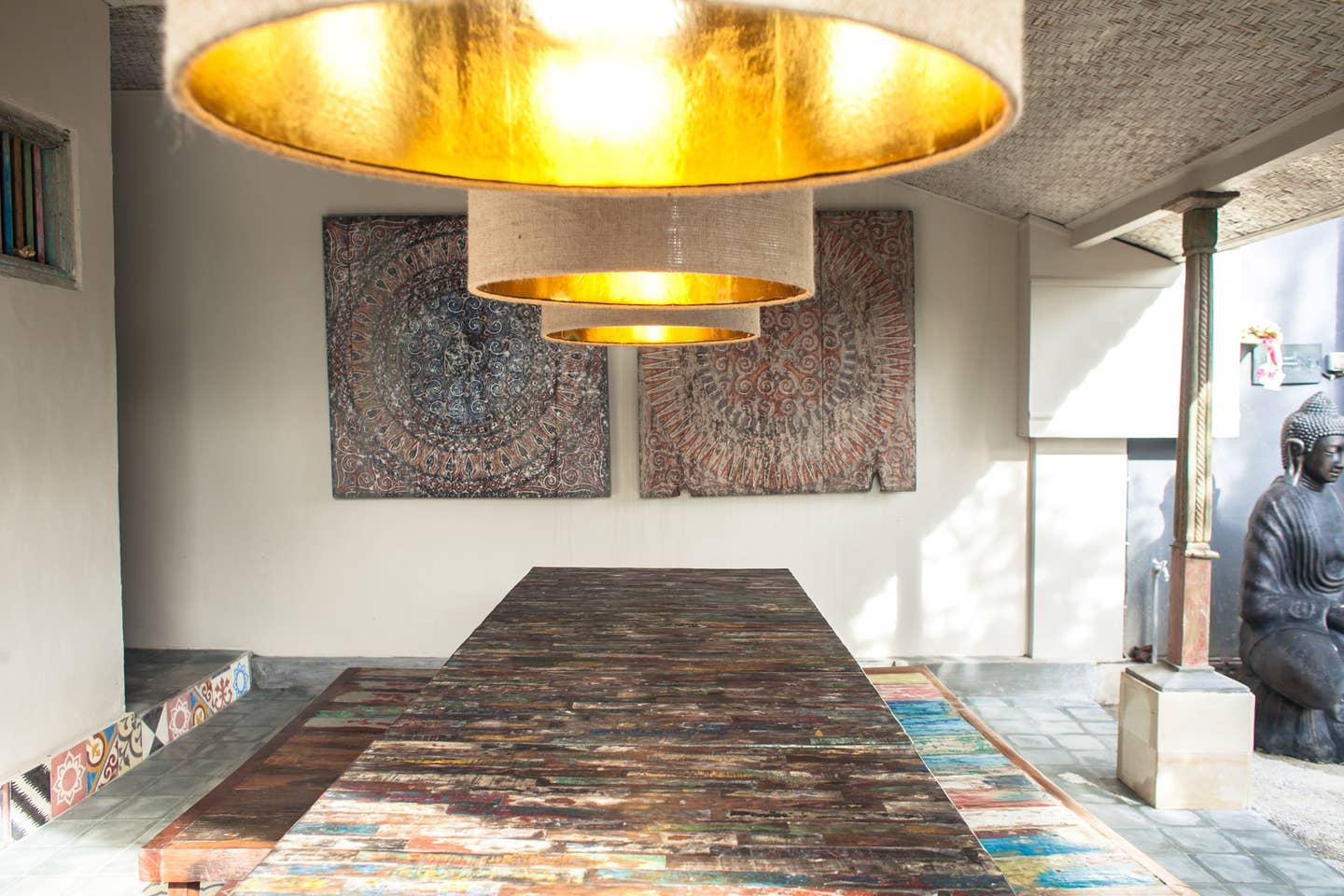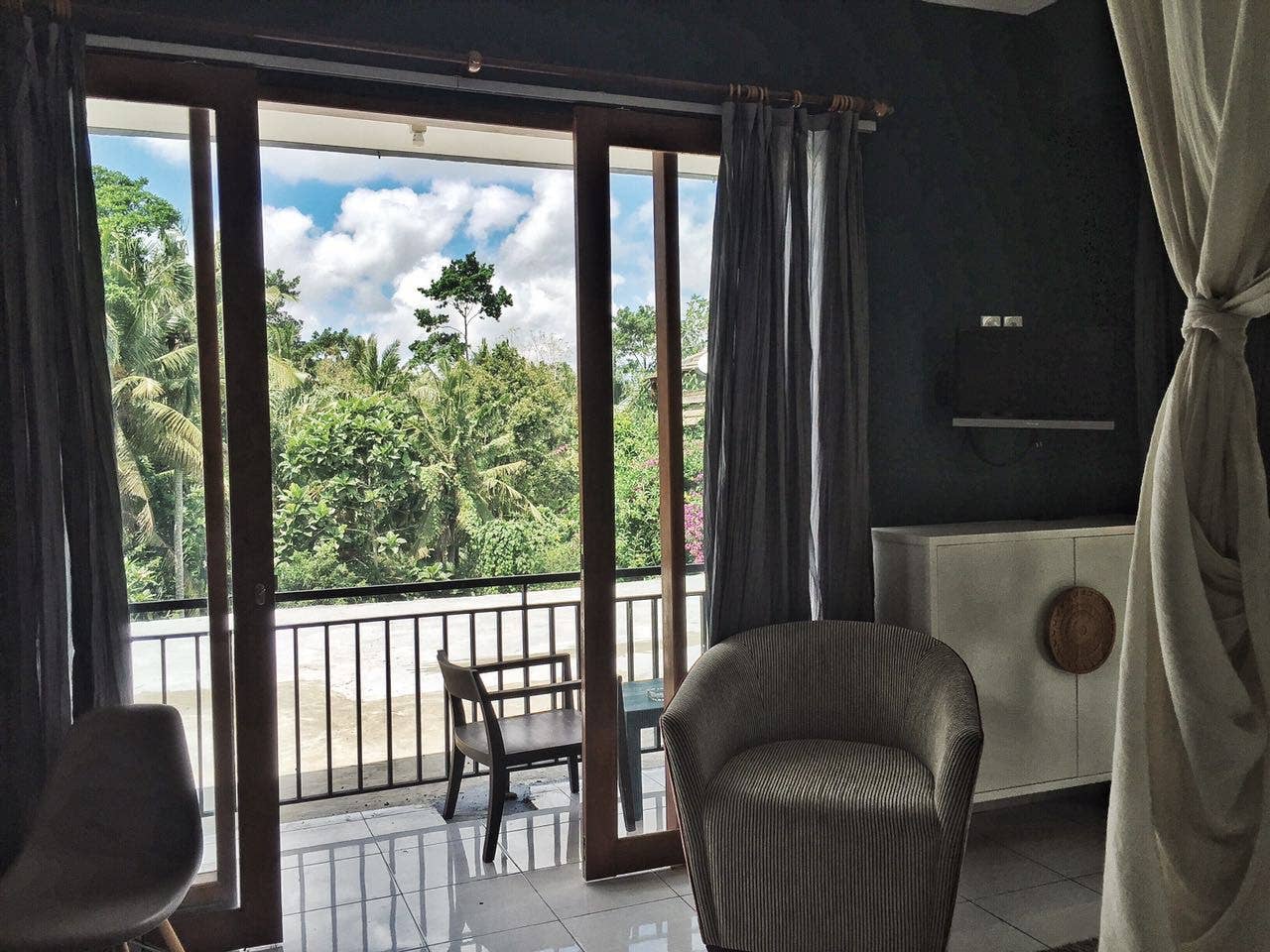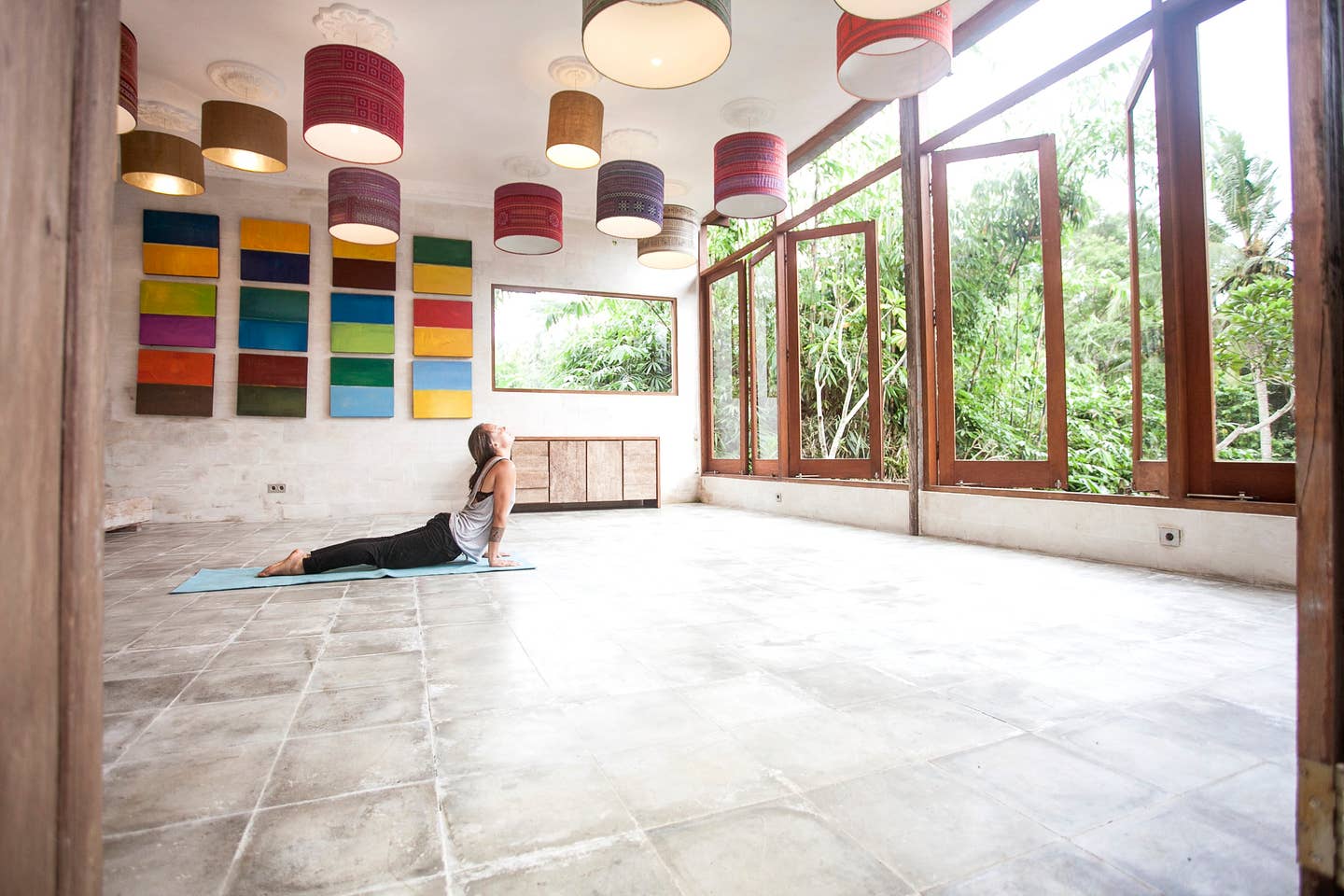 Our home, pictured above, is a private commune featuring Indonesian architecture, modern amenities and luxurious comfort. Nestled in plush tropical gardens, perched by a river and surrounded by lovely rice fields. You may never want to leave this place.
Our personal chef prepares lunch & dinner daily, we have a private pool, and our very own yoga shala.
Each bedroom is its own oasis, providing a retreat from stimuli and a meditative space to center yourself and relax. Enjoy a large bed, air conditioning, and WIFI.
Our daily rituals take place in the Shala, which is a beautiful studio integrated with the natural Balinese landscape. The shala harmonizes with the alive environment surrounding it, and it embracing us Crafters with a warm, healing, and peaceful energy.

There are just 8 spots available in this yoga teacher training experience. Keep exploring below for pricing & application.
self-investment
EARLY-BIRD TUITION: $3,550 | $200 off total price
•please submit your $1000 non-refundable DEPOSIT to secure your spot before March 20, 2020
REGULAR TUITION: $3,750
•deposit submitted on or after March 20, 2020
Important to note: your full balance is due by June 1, 2020
Yes! We accept payment plans, so long as you are paid in full no later than June 1. All payments are non-refundable after March 20, 2020
We highly recommend you obtain travel insurance in the rare case of venue cancellation, flight cancellations, or natural disaster.
TUITION INCLUDES:
shuttle to/from the airport

11 nights in a private bedroom

22 home cooked Balinese meals

access to pool, full kitchen, and shared living spaces

daily yoga practices & lectures

welcome package

our stunning Craft Manual

authentic Balinese delights & surprises

Craft 100-hour Certification registered with the Yoga Alliance** (details below)
TUITION DOES NOT INCLUDE:
flights

travel insurance

refunds in the rare case of venue cancellation, natural disaster, or flight cancellations (hint- travel insurance covers, this!)

optional in-home massages & spa treatments

required text books

additional snacks or meals outside of lunch & dinner

online payment credit card fees

scooter rental or transportation while in Bali

solo excursions, shopping, or sightseeing
NOTE FOR ASPIRING YOGA INSTRUCTORS:
The Craft Bali Immersion is the first of two 100-hour certifications. Awaken & Flow is the prerequisite for our Expand & Integrate Immersion slotted for January 2021 (more info to come early 2020). Only after you've completed Expand & Integrate may you graduate as a Crafter and apply for our Yoga Alliance RYT 200hr Certification (upon meeting requirements).
Participants are required to sign a liability waiver and are encouraged to sign an optional photography and video release form.
your being here means you're ready.
The whispers of your heart sweetly guided you here. You are exactly where you need to be.
APPLY BELOW
Taking the Craft is a big commitment. We know. But we also know that it is a transformative and powerful experience. We believe our paths were destined to cross, and you're reading this because you have in intuitive sense that this is what you need.
If you have hesitations or questions, please reach out to us. Send us an email by clicking here. We would love to talk on the phone or meet for a cup of coffee or tea to talk about life, your aspirations, and fears, and how the Craft may help you along your journey.
If you feel great about it, sweet! Please apply below and submit your deposit after you finish! We will respond to your application as quickly as we can.
Go, you!
Are you a studio owner looking to collaborate? We can bring the Craft in part or in whole to your studio!